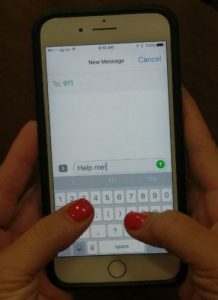 On Monday, March 27, 2017 a local media channel reported that Charlotte County was currently accepting text to 911.  Contact was made with the media channel to advise them that this statement was inaccurate. The media may have gotten Charlotte County mixed up with another nearby county who is accepting text to 911. This article is being posted to provide readers with an update on the status of text to 911 in Charlotte County at this time.
There are multiple stages to implementation of text as there is with any other 911 technology. The first step was to obtain the necessary equipment and software that provided the ability for integrated text to 911. This was achieved in May 2016.  Currently Charlotte County is in the process of contracting with the service provider, setting up engineering and notification of carriers. Future steps will include field testing, standard operating procedure development, training for telecommunicators and public education.
A very critical step in this process public education as this method of reaching 911 is for those individuals that are hearing or speech impaired or those individuals who are in distress and are unable to speak. For those that can hear and speak, it is preferred that they make an actual telephone call with voice.
Currently in the State of Florida, approximately 1/4 of the counties are able to accept text. Many of those that do not have text are working on it and may somewhere in the various stages listed above. Each county is responsible for implementation of text while the initiative is supported by the Florida E911 Board. More information regarding the Statewide Text to 911 Initiative can be located on the Florida Department of Management Services Enhanced 911 www.dms.myflorida.com/business_operations/telecommunications/enhanced_911
Sarasota and Collier Counties are accepting text whereas Charlotte and Lee do not. If you are a person who relies on text services, check with the county you are staying in to learn about their capabilities.