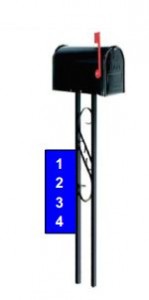 Is your address on your home hard to see? Are you concerned that public safety personnel may not find you during an emergency? Reflective address markers can help alleviate this issue. Reflective address markers are highly visible both day and night, can be seen from both sides and are fade resistant. They can last for years.
The cost of these reflective address markers is $25.00 each. The proceeds from this program support the Charlotte County Fire & EMS Public Education Fire Safety & Injury Prevention Programs.
If you are interested in purchasing a reflective address marker, click here. For additional information, contact the Charlotte County Fire Administration at 941-833-5600.