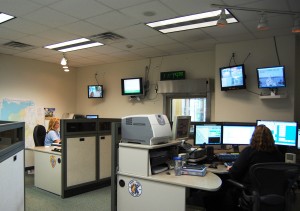 The City of Punta Gorda Public Safety Center located at 1410 Tamiami Trl. Punta Gorda, FL. 33950. The center answers 911 calls for the city jurisdiction which covers more than 21 square miles with a current population of 17,444. Telecommunicators at the Punta Gorda Police Department dispatch directly to police and fire, while emergency medical calls are transferred by one-button direct connect to the Charlotte County Sheriff's Office Public Safety Center for medical instruction and EMS service dispatch. The Punta Gorda Fire Department accompanies Charlotte County EMS on all residential medical emergencies as a first responder within the city limits.
In 2012, the Punta Gorda Police Department Public Safety Center received 37,465 calls for service; 6,613 of those calls were received via the 911 system.
The Communications component is staffed by eight full-time telecommunicators and one supervisor who assumes dispatching responsibilities a minimum of two shifts per week. Shifts are eight hours and minimum staffing per shift is two telecommunicators. One telecommunicator is responsible for officer activity and dispatching to police, while the second on-duty telecommunicator is responsible for call processing and dispatching to the fire department.
All telecommunicators are state certified prior to being released on their own from training. Telecommunicator training in this center surpasses all state training requirements. All operators are state certified and receive a minimum of 20 hours continuing education yearly to maintain this certification.