The Flicker of Life is a device used to assist first responders in arriving to your front door during an emergency. During night time hours it is difficult for responders to see house numbers and often times neighborhoods are poorly lit. Using the Flicker of Life device, can shorten the time required to locate your residence during an emergency.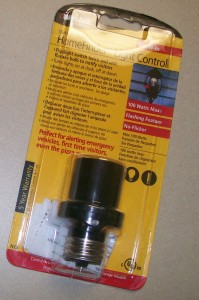 The Flicker of Life is easy to use:
1. Unscrew the light bulb in your outdoor porch light.
2. Insert the Flicker of Life socket, just as you would screw in a light bulb.
3. Screw in your light bulb.
4. Your inside light switch can remain in the "ON" position because the Flicker of Life contains a sensor that will turn the light on at dusk and shut the light off at dawn.
5. Flick the inside light switch twice to activate the Flicker of Life light into the "flashing mode" in an emergency. The light will continue to flash for 20 minutes, or until turned off.
It's that simple
Note: The Flicker of Life does NOT activate the 911 emergency system, in an emergency call 9-1-1.
The cost of the Flicker of Life device is $12.00 and can be purchased at the Fire/EMS Headquarters at 26571 Airport Rd. Punta Gorda, FL 33982.