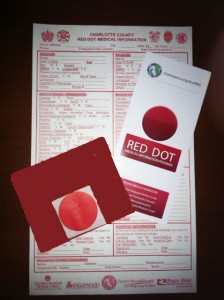 Charlotte County E911 partners with Charlotte County Fire/EMS and the local area hospitals to provide the community with the Red Dot Program. This program allows emergency personnel access to information about an individual's medical condition, needs and history in the time of crisis.
Often during an emergency, necessary information about a person's medical condition or history may be unknown by the individual making the 9-1-1 call or the patient may be incapable of providing this information at the time of the 9-1-1 call due to the nature of the incident. The Red Dot Program provides another avenue to provide critical medical and other related information when needed by first responders.
A Red Dot Participant can provide key medical history, information about prescribed medications, doctors, hospital preference, emergency contacts and key holders by completing a form and sending it back to the E911 Office where it will be uploaded into a computer database that is accessible by 9-1-1 Dispatchers and First Responders. All information remains confidential and is discarded when the information becomes obsolete or at the request of the participant.
Red Dot packets can be obtained at any of the following locations:
Charlotte County Fire/EMS Headquarters
Charlotte County Sheriff's Office Headquarters and district offices.
Punta Gorda Police Department
Any of the four area hospitals

Bayfront Port Charlotte
Bayfront Punta Gorda
Fawcett Memorial Hospital
Englewood Community Hospital

Charlotte County American Red Cross
A Red Dot Packet can be obtained by calling the E911 Office at 941-575-5339 and providing your name and address or by accessing the online form on the Charlotte County Fire/EMS website: http://www.charlottecountyfl.com/Fire/RedDotProgram.asp
If submitting an online form, upon completion, the applicant should print a copy of the form, submit it, and the rest of the packet will be sent in the mail.
A Red Dot Packet contains the following items:
Red Dot Medical Information Form
A magnetic pouch
A Red Dot sticker
A Red Dot Program pamphlet that provides additional "how to" information
There is no fee for this program. The program is sponsored by the four local area hospitals listed above and by donations made by community members.
Presentations regarding the Red Dot Program can be requested by contacting the E9-1-1 Office at 941-575-5339 or the Charlotte County Fire PIO 941-833-5600.