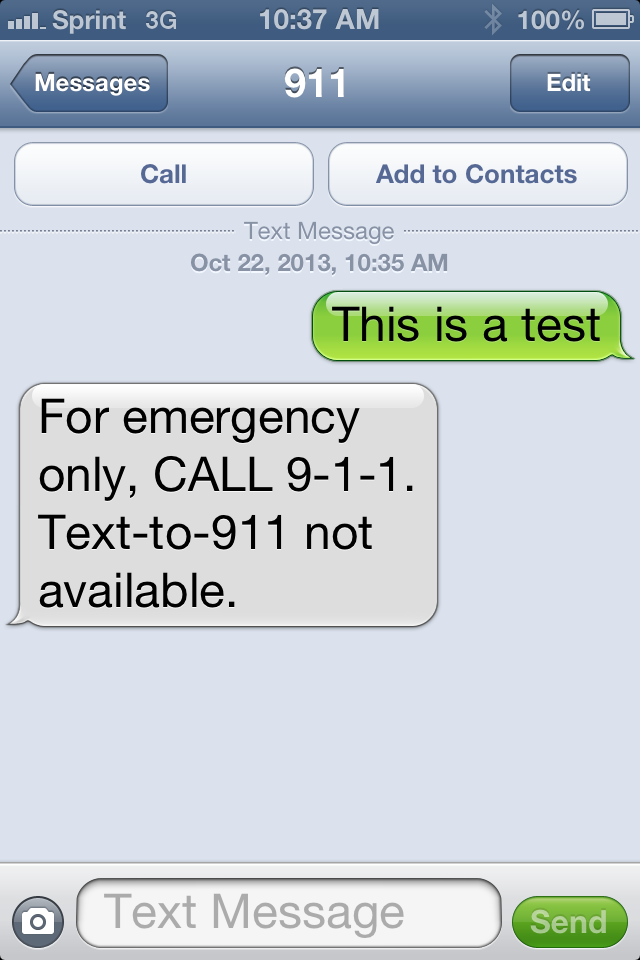 The purpose of this article is to provide the reader with information regarding industry advancements regarding Texting to 9-1-1 Services and what steps Charlotte County E911 is taking to implement these new technologies.
Currently four major carriers that have made a voluntary commitment to work towards advancements in Text to 9-1-1 services. The four companies include: AT&T, Sprint, T-Mobile and Verizon. Companies have already begun sending "bounce-back" messages when callers attempt to text 9-1-1 and the service is not available. In areas where text is not available or the carrier has not started providing the service, a text caller should receive a message that indicates that Text to 9-1-1 services are not available.
There are several methods in which 9-1-1 centers may be able to receive text calls but that will depend on local technologies in each 9-1-1 center and whether or not the cellular carrier is capable of sending text for a chosen method. In some areas around the country, interim methods of delivering text to 9-1-1 are being used. These interim methods may be the use of a web browser or TTY for the hearing impaired. There are limitations to each of the interim methods and not all carriers are ready to provide these services. Administrative staff for each Public Safety Agency much carefully consider the options for implementing these technologies when they do become available.
Text to 9-1-1 advancements are in their infancy stages and have not arrived in Charlotte County 9-1-1 Centers. Charlotte County E911 is conducting research and taking steps to advance equipment that will be capable of receiving text messages along with other multimedia and next generation technologies when they become available.
When text to 9-1-1 does become available, at the least, it will be considered a "best effort" service. The voice 9-1-1 call is and will remain the best method and the public will be encourage to make a voice call whenever possible. The text to 9-1-1 technology is geared more for hearing and speech impaired persons who use text to communicate every day or for those people that due to the nature of the emergency may not be able to speak.
Please stay tuned to this website for updates on future advancements here in Charlotte County. If you have further questions, please contact Laurie Anderson, E911 Administrator at 941-575-5339 or by email at Laurene.Anderson@ccso.org