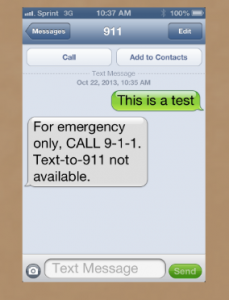 Some of you have already heard the buzz regarding text to 9-1-1 becoming available in portions of the United States and most recently in Collier County, FL.  The overall intent of this post is to provide you with a basic understanding of how this is being implemented and provide you with information regarding the plan for Charlotte County.
The four major cellular carriers (AT&T, Sprint, T-Mobile, and Verizon) had made a commitment to the FCC to provide text to 9-1-1 services.  Text to 9-1-1 services could be provided in one of three methods, TTY/TDD which is a device used by the hearing impaired, web browser, or via IP (Internet Protocol).  In the state of Florida it is at the discretion of each PSAP (Public Safety Answering Point) regarding how they are going to accept the text services.  Each of the three methods has its limitations and some require infrastructure upgrades or modifications. Modifications to software and hardware can also be very costly for some counties.
Taking into consideration these benefits, limitations and Infrastructure requirements Charlotte County E911 is working towards being able to receive text via the latter of the three options, IP (internet protocol). Charlotte County is one of the very few counties in the State of Florida that has had an opportunity to make advancements towards Next Generation 9-1-1 Technologies. Most are currently using the legacy 9-1-1 technology.
Charlotte County currently receives 9-1-1 calls via an IP Network Service (Intrado). In order to receive text to 9-1-1 via the IP Network will require an upgrade to the telephone equipment (hardware and software) in the two dispatch centers and backup center.  Due to the age of the telephone equipment currently in use, upgrades to hardware and software would be necessary regardless of the intent to move forward with text to 9-1-1.  Keeping this in mind, for Charlotte County, it makes sense to combine efforts with upgrading equipment and move forward with text to 9-1-1 via the IP network.
The process of upgrading the equipment, software and implementing text to 9-1-1 is not quick process as there are funding issues, choosing a vendor, hardware/software installation, making requests to the carriers, standard operating procedure development, and telecommunicator training.  The ball is already rolling in the right direction however implementation is expected to take place tentatively by the 2nd or 3rd quarter of the 2015 calendar year.
Until text to 9-1-1 can be implemented in Charlotte County, those that attempt to reach 9-1-1 via text will receive a bounce back message stating that that text to 9-1-1 is not available. At that point, the caller would need to place a voice call.  Please check the E911 website for further developments regarding this topic.
Related reading:
http://www.fcc.gov/text-to-911
http://www.governing.com/columns/tech-talk/gov-can-you-read-me-now.html
http://psc.apcointl.org/2014/06/17/verizon-customers-will-now-be-able-to-text-9-1-1-in-collier-county-fla/