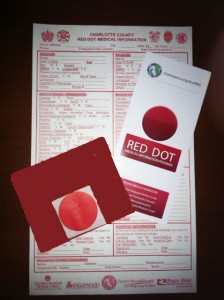 Charlotte County E911 partners with Charlotte County Fire/EMS to provide the community with the Red Dot Program. This program allows emergency personnel access to information about an individual's medical condition, needs and history in the time of crisis.
Often during an emergency, necessary information about a person's medical condition or history may be unknown by the individual making the 9-1-1 call or the patient may be incapable of providing this information at the time of the 9-1-1 call due to the nature of the incident.  The Red Dot Program provides another avenue to provide critical medical and other related information when needed by field responders.
A Red Dot Participant can provide key medical history, information about prescribed medications, doctors, hospital preference, emergency contacts and key holders by completing a form and sending it back to the E911 Office where it will be uploaded into a computer database that is accessible by 9-1-1 Dispatchers and Field Responders. All information remains confidential and is discarded when the information becomes obsolete or at the request of the participant.
The Red Dot Program is transitioning to a new format, but traditional Red Dot packets can be obtained at any of the following locations while supplies last:
Charlotte County Fire/EMS Headquarters
Charlotte County Sheriff's Office Headquarters and district offices.
Punta Gorda Police Department
Traditional packets include a medical information form, program brochure, magnetic pouch and return envelope.
Traditional Red Dot Packet Directions…
Step 1 – Fill out the form.
Step 2 – Send (1) copy of the form to the E911 Office in the return envelope provided.  If not using a return envelope, send the form to Charlotte Co Sheriff's Office Attn 911 Office 7474 Utilities Rd Punta Gorda, FL 33982
Do not send in a list of medications or advance directives.
Step 3 – Keep (1) copy and put in the magnetic pouch.
Medications list and advance directives can be added to the magnetic pouch.
Step 4 – Place the magnetic pouch on the front of the refrigerator.
There is no fee for this program.
Updated program coming soon.