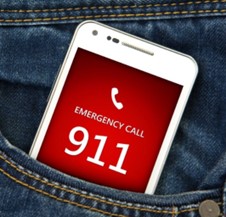 Charlotte County Emergency Communications Centers are requesting assistance from the public in relation to their cellular devices and 911 accidental calls. Charlotte County has seen a 33% increase in 911 calls compared to the same time in 2022. Much of this increase is believed to be related to a cellular phone operating system on android phones that took place in the latter part of 2022.
Since the android operating system update rolled out, Emergency Communications Centers from across the world have seen a major uptick in 911 accidental calls. Some of them reporting increases in call volume with upwards of 300-500%. While some of the increase in 911 calls across Charlotte County may also be attributed to population growth, we have been able to identify that many of them are related to accidental dialing. Some of these accidental 911 calls are occurring several times a day from the same device.
To assist us with this rapid growth in accidental 911 calls, please reach out to your provider to learn how you can change settings on your device to prevent these accidental calls. If you should happen to accidentally call 911, please remain on the line until you speak with an operator to confirm the lack of an emergency.
The National Emergency Number Association released the following statement. NENA Statement on Recent Increase in Accidental 9-1-1 Calls – National Emergency Number Association